A blue, green and white template with tabs at the top, and room for sponsors and featured links in the right column.
Screenshot: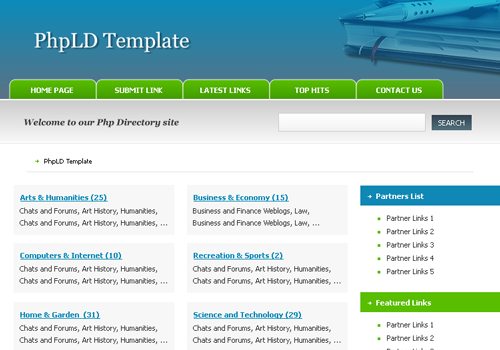 Ally Rock phpLD Template Details:
Designed By: PHPLD Templates
Sponsored By:
All Version Are Sponsored and sponsor links must be maintained.
Terms For Use: Ally Rock PHPLD Template is free to use as long as the footer links to Ally Web Directory and Web DirectoryList remains intact in the footer. Please note that the footer link removal option is not available. Any person/directory found using the template against our terms will be taken action upon!
PHPLD Version: Ally Rock phpLD Template is available for four PHPLD Versions (v3.2.0, v3.1.0, v3.0.6 and v2.1.0)
Download Link: Alley Rock Template
« Back to Templates
Previouse article:

Search Simplicity Template
Next article:

3 Column Palms Theme