The Lemon Shadow theme has been quite popular over the years, and was first created by a designer from Bangladesh who went on to create a very successful design business. There are actually two versions you can download:
Lemon Shadow
and
Lemon Shadow 2
. As always, make sure you download the phpLD template that matches the version of phpLD that you are running for best results.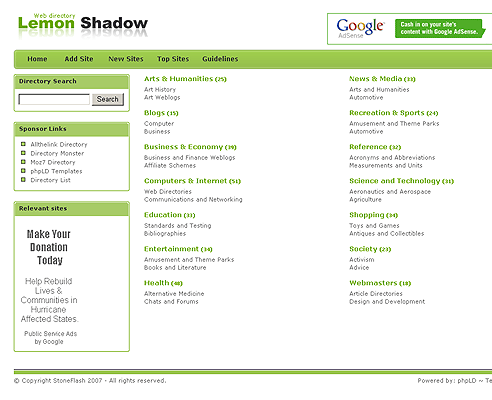 Fast loading clean and sleek phpLD templates. Template has built in option for
Text links
,
Google ads
and
Banner ads
.
Lemon Shadow is
Valid XHTML 1.0
Transitional!
Also footer link has only one link point to our site, No Sponsor link there!Available version:
phpLD v2.0, v2.1, v3.06, v3.1 and v3.2
Download Here
Note:
You are
FREE
to use this template provided the link back to the designer's site at the bottom of every page.
Enjoy!
« Back to Templates
Previouse article:

4 New Templates from Ask Graphics
Next article:

Dapix Template